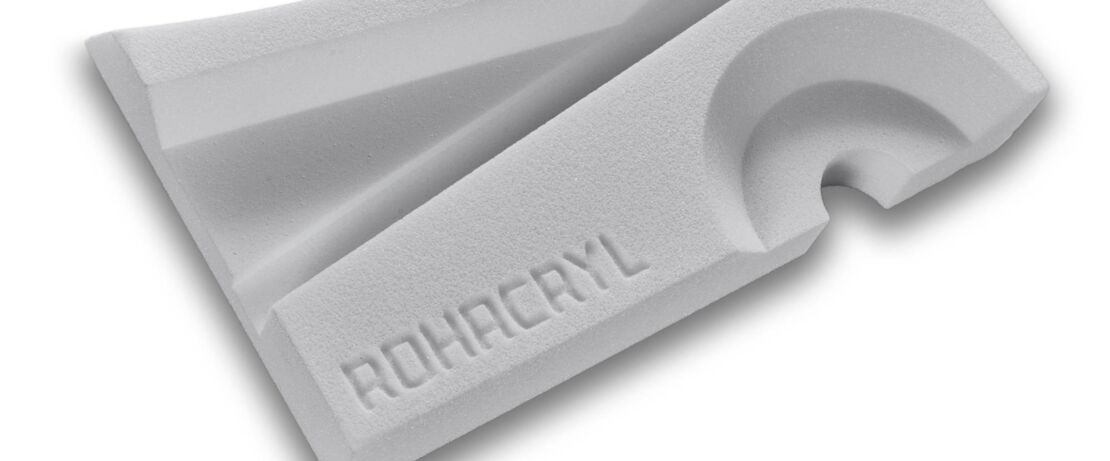 THE RECYCLABLE STRUCTURAL FOAM FOR HIGH VOLUME APPLICATIONS  
ROHACRYL™
ROHACRYL™ has been developed to meet the requirements of high-volume industries with a clear focus on lightweight and sustainable applications. Its high performance and contribution to sustainability is a step ahead for products, processes and value chains in the composite industry.
EXCELLENT PROPERTIES  
The unique combination of mechanical strength and stiffness at low densities allows you to build your sandwich design leaner and lighter. Highly isotropic cells, tailored for low resin absorption, offer additional weight saving potential. Rethink your design and watch the weight of your products decrease!
SUSTAINABLE  
The recyclable raw material base of ROHACRYL™ offers a low carbon footprint and a clean end-of-life solution. Low resin consumption, a leaner design, and short cycle times are additional levers for responsible production in our global environment. Future-proof your applications for the challenges of a circular economy – without any harmful CFCs!
PROCESS BENEFITS  
ROHACRYL™ is easy to machine with the ability to cut it quickly and cleanly. The compatibility with automated handling systems due to closed cells and the high processing temperature are a requisite for shorter cycle times.
The result is increased production efficiency from start to finish. ROHACRYL™ is the foam of choice for automated, high-volume production with RTM and infusion processes. It addresses the needs of the whole design and production chain with excellent mechanical properties at low densities, low resin absorption and high process temperatures.