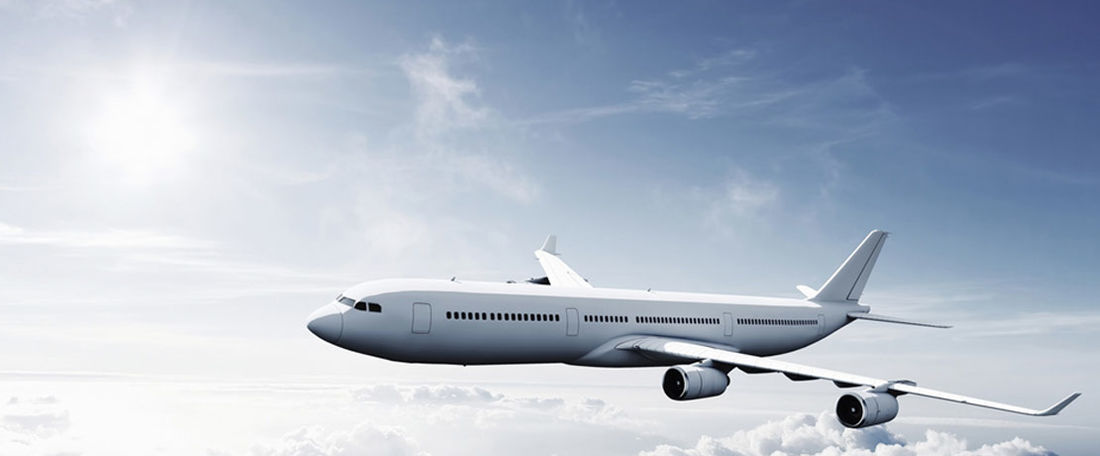 Markets
Lightweight composite designs
Efficient production and reduced maintenance cost 
Faced with new challenges in production and maintenance costs every year, the airplane industry continuously explores new and efficient solutions. Evonik's high-performance lightweight airplane foam core ROHACELL® provides advantages that deliver both savings and efficiency – and with its ease of use in automated production, it may well be the airplane foam of the future. With our new ROHAFORM® foam cores, we now provide an equally efficient way of producing parts for aircraft interiors that meet their strict fire and safety requirements.  
Replacing conventional metal structures with carbon fiber-reinforced plastic (CFRP) with a structural foam core, like ROHACELL® or ROHAFORM®, has been a trend in airplane engineering for years. In high-performance composites, sandwich structure designs are a preferred choice for lightweight, yet strong and stiff components. Selection of the optimal sandwich design is usually based on the different conditions associated with load-bearing capacity, production and component parameters.
ROHACELL®: Process reliability and cost-effectiveness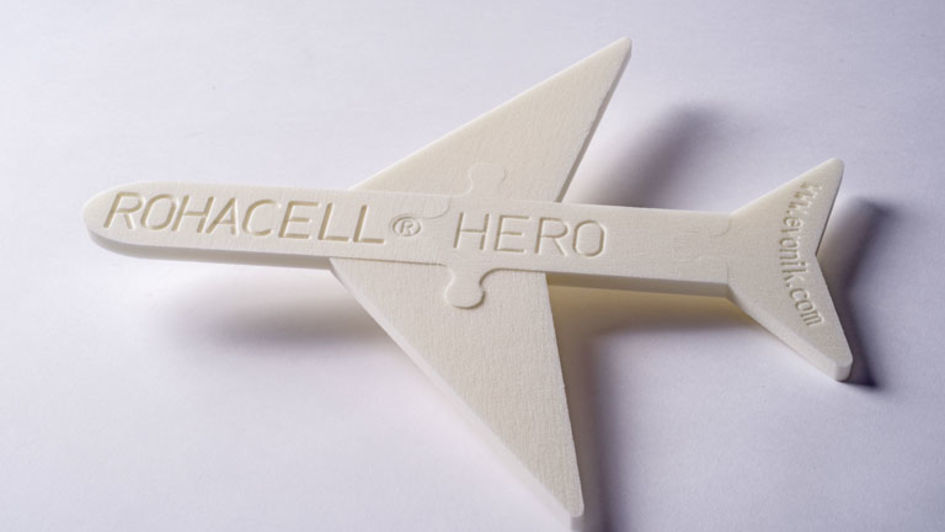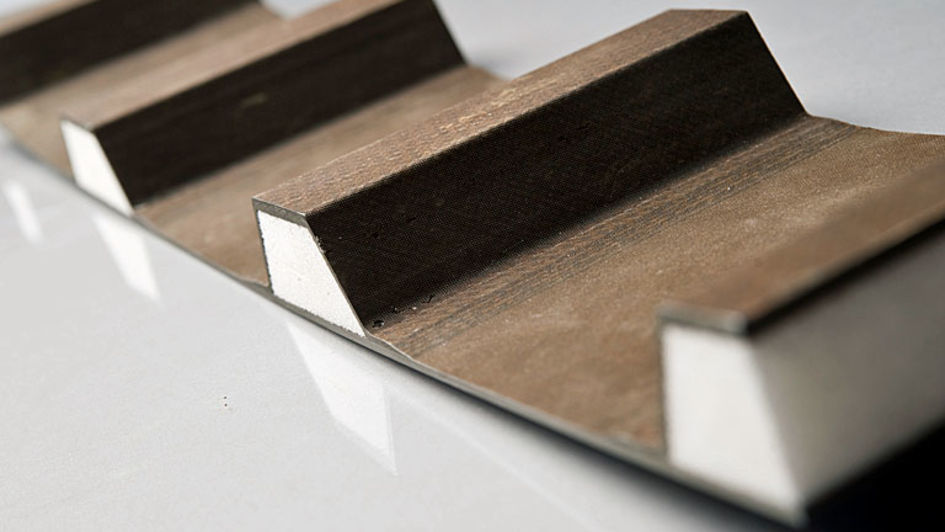 The airplane industry has long made use of the advantages of ROHACELL® airplane foam as a lightweight, structural core material in their sandwich-design composites. The high performance closed-cell foam reduces the cost of a component due to its process reliability and cost-effective production potential for producing highly integral structures.
ROHACELL® easily withstands curing temperatures of 180 °C / 356 °F and compressions of up to 10 bar / 145 psi (depending on density) without significant creep. This high-temperature resistance ensures curing pressure remains stable, even in the presence of possible exothermal reactions, and guarantees the highest laminate quality.
Choose from a collection of ROHACELL® airplane foam grades available in multiple densities and a range of cell sizes making it easy to optimize resin absorption in pre-preg processing and resin infusion.
ROHAFORM®: Designed specifically for applications with stringent fire, smoke and toxicity level requirements (FSTH).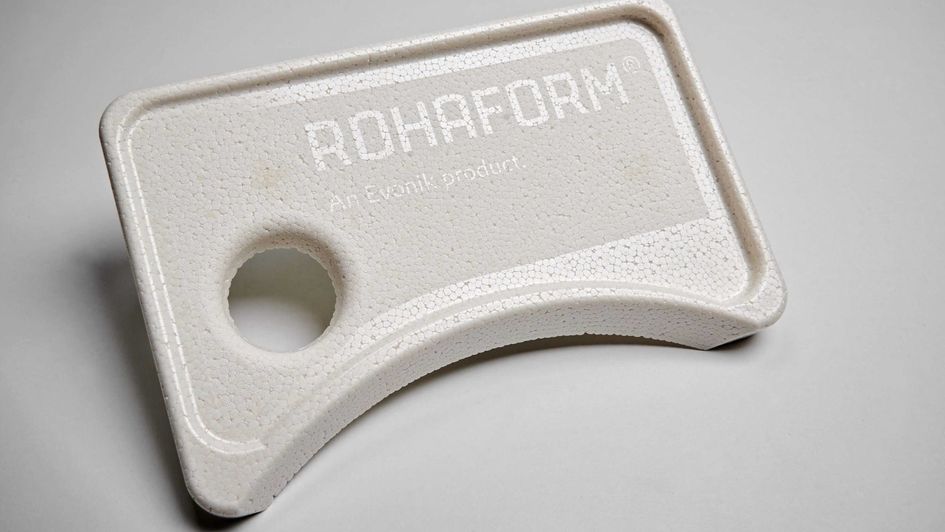 ROHAFORM® is a lightweight particle foam that is impressively exceeding both US and European regulatory FST requirements for commercial aircraft interiors. No geometry or part elevation variations are too complex. ROHAFORM® cores are ideal for use in automated production as well as state-of-the-art high pressure and extreme temperature processes. Not only do these FST compliant foam cores support efficiency in processing and production, they also contribute to sustainability since the foam is fully recyclable. 
Let our shaping experts produce your airplane foam shapes and deliver them
Ready for the next processing step
Reduce waste expense and risk of damage that can occur during your in-house shaping step, plus also lower inventory costs by requesting just-in-time delivery to meet your production schedule. Our Shapes Department is equipped with high-tech tools and trained experts who ensure your shaped parts are inspected and shipped per your specifications.
Automated production of composites for airplanes
Use of composites in airplanes is steadily gaining in popularity, but with increasing build rates becoming the norm, composite part manufacturers are now challenged with finding new ways to produce higher part volumes. Automated production with sandwich design is an excellent combination to reduce steps and save costs.
ROHACELL® structural airplane foam core provides multiple advantages in automated production. Its natural core stiffness makes it easy for a vacuum supported robotic arm to transfer and position a foam core shape smoothly, quickly and precisely every time. 
In January 2017, ROHACELL® HERO airplane foam was qualified by AIRBUS under AIMS 04-11-011 and ABS5955 standard for airplane structural parts.
This opens up new opportunities for AIRBUS, Tier 1 and other aircraft manufacturers to design innovative sandwich composite airplane components that are lightweight, mechanically strong and efficient to produce, regardless of geometric dimension.
To fulfill airplane service and production process requirements we create specifications in close cooperation with our customers. Thanks to our Quality Management system according to AS/EN/JISQ 9100, we have established controlled production steps for foam production. We guarantee with a certificate that our material meets specified properties.
Let our team of experts support you with FEM calculation, airplane foam product and density selection, and how our products can fit within your production parameters. The Performance Foams Sandwich Technology Center (Darmstadt, Germany, and Shanghai, China) and our Shapes Production Departments (Darmstadt, Germany and Mobile, Alabama, USA) offer quick turnaround on prototype and production ready-to-use shaped cores.