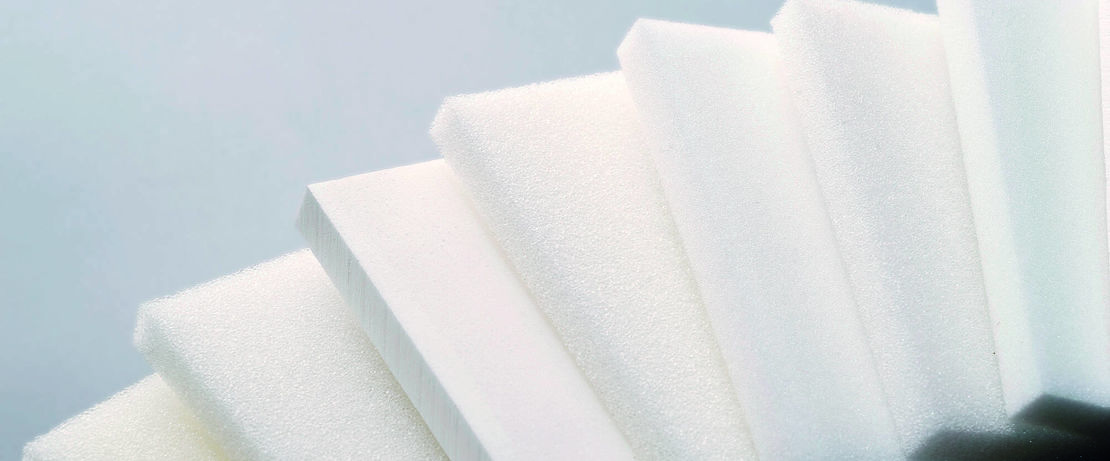 Products & Solutions
CORE MATERIAL WITH UNRIVALED HEAT RESISTANCE AND CREEP COMPRESSION STRENGTH
Choose the ROHACELL® PMI foam for your application and process
Whether your key selection criteria is density, processing temperature, cell size or a specific mechanical property performance level, we offer a full line of ROHACELL® PMI foam products to meet your application needs.
LIGHTWEIGHT CONSTRUCTION Made EASY for 50 years
For 50 years, Evonik's ROHACELL® structural foam has been offering the aerospace and automotive industries, medical technology, and other markets boundless possibilities for lightweight construction of parts or products made from high-performance composites. In such applications ROHACELL® foam core, which is based on polymethacrylimide (PMI), is used as a core between, for example, CFRP facings or as a mandrel.
The closed-cell foam uptakes resin only in the exposed cut cells at the surface. This prevents excess resin from infiltrating further into the foam, which would add unnecessary weight, and also provides an adequate means of restraining the ROHACELL® by way of vacuum fixation during mechanical processing. ROHACELL® can be processed by common machining methods which include milling, drilling, turning, and sanding. ROHACELL® can also be thermoformed into complex geometries.
All ROHACELL® foams provide impressive mechanical strength, even at very low densities, and a heat distortion temperature and creep compression strength that is superior to any other rigid foam. For select grades, the properties can be further enhanced by heat treatment.
Click on the product grades listed below to view mechanical properties and available densities, then contact us for assistance in selecting the optimal product for your application.
Choose your grade
Industrial, medical, sport, automotive, electronics

Base grade qualified for aircraft

Automotive, sport, industrial

Higher temperature and higher compressive resistance compared to IG-F, higher elongation at break

High temperature and compressive resistance, highest elongation at break, damage tolerance, Grade for structural aerospace parts

Aircraft, space, automotive‡ , industrial‡ , radomes

High temperature and compressive resistance, coarse cells

Aircraft, space, automotive, sport, industrial

High temperature and compressive resistance, smallest cells

Aircraft, space, automotive, industrial

High temperature and compressive resistance, medium cells

Aircraft, space, automotive, industrial

Highest temperature and compressive resistance, coarse cells

Aircraft, railway, shipbuilding

Good fire behavior, self- extinguishing

Aircraft, radomes medical, electronics

Best dielectric performance

Aircraft, electronics, radomes

Electrically conductive
(DUAL USE GOOD)
* HERO and RIST-HT always comes as heat-treated version.
‡ 71 WF and 110 WF not certified for automotive and industrial
working with ROHACELL®
ROHACELL® polymethacrylimide rigid foam is distinguished by its excellent specific strength properties. It can be milled, drilled, punched, turned, sanded and thermoformed. ROHACELL® can be used as a production tool in fiber placement, filament winding, and flyaway mandrel technology. It can work as a draping aid for producing profile-reinforced shells, such as hat stringers, and as load-bearing structural cores in sandwich construction. It is the perfect core material solution for the newest automated production techniques for building sandwich-design composites.
Similar to any other foams, ROHACELL® absorbs moisture from the environment. Due to the fact that ROHACELL® is a closed-cell foam, the mechanism of moisture absorption is a pure diffusion process. This process depends heavily on the ambient temperature and atmospheric humidity.
As a result of this moisture uptake, dimensional changes, which are usually very small, occur. Also the mechanical properties, mainly in creep behavior, will be affected. Dimensional changes are ascribed to expansion of the molecular chains by (physical) attachment of water molecules to the imide groups of the polymer through van der Waals interactions. The water molecules act as plasticizers, making ROHACELL® more ductile. Apart from this degradation in mechanical properties, processing at temperatures above 100°C results in the formation of steam, which adversely affects the bonding of the skins with the structural foam core.
Moisture uptake by most ROHACELL® grades is usually a reversible process. Redrying the material restores the original mechanical properties and, within certain limits, reverses dimensional changes. We therefore recommend that ROHACELL® be dried before it is processed at higher temperatures. Dried or heat-treated (-HT) ROHACELL® is available ex works. It is packaged in diffusion-proof aluminum bags. In general ROHACELL® should always be stored dry.
SPECIAL INSTRUCTIOS FOR ROHACELL® HERO
Re-drying ROHACELL® HERO sheets or shapes is not possible. If unexpected exposure to moisture occurs, do not attempt to re-dry the product and immediately contact your ROHACELL® representative for assistance and further instructions.
The processing method used in the manufacture of a sandwich component determines whether drying or heat treatment should be chosen. In addition to the process pressure (in the autoclave or press), the process temperature is critical for curing of the skins. Drying is recommended for process temperatures above 100°C, depending on the process pressure. Special heat treatment is usually required for process temperatures up to 190°C.
Drying and heat treatment are best carried out in circulating-air flow ovens. The duration of heating depends also on the thickness of the sheets; further information is available at Drying and Heat Treatment. Heat treatment can change the volume and surface area of ROHACELL® sheets. Forming processes should therefore be carried out only after heat treatment.
Directly after heat treatment, the sheets must be protected from atmospheric moisture by diffusion-proof aluminum bags (as specified for example in MIL-PRF-131J). After removal of the sheets from these bags, the time available for processing (out-time) is limited. However, this time window is accumulative provided that the material is returned to the bags when not in use.
If the allowed processing time of the sheets is exceeded, drying can be repeated. For processed (milled) components, however, this is possible only to a limited extent because of dimensional changes.
Heat treatment (HT) of processed components cannot be repeated because it causes small changes in volume and surface area.
ROHACELL® allows relatively simple production of molded parts by cold or hot forming. The most appropriate method in each case can be selected in accordance with the extent of forming, the panel thickness, the material grade, and the subsequent processing.
In cold forming, the sheet is fixed cold on a die by means of a vacuum, heated in an oven to the forming temperature, and slowly cooled. This allows relatively precise production of 3D shapes. The smallest possible bend radius is approximately twice the panel thickness. Due to restoring forces, however, the panel must be held in form during subsequent processing.
Hot forming is a cost effective method for producing 3D shapes rapidly and economically. At a temperature between 175 °C and 220 °C, depending on grade and density, ROHACELL® becomes thermoelastic and moldable.
ROHACELL® is machined without lubricants on fast running wood or plastic processing machines, using typical tools for this purpose. Common processing methods include drilling, planing, milling, sawing, and sanding.
The foam can be shaped into complex 3D molded parts on CNC wood or plastic processing machines.
In our SHAPES department, we produce fully processed, ready-to-use ROHACELL® cores on 4- and 5–axis CNC mills, according to your requirements. We provide quality-assured support, from prototype to mass production.
ROHACELL® can be bonded with nearly all commercially available adhesive systems. It is resistant to solvents and is distinguished by a closed cell structure. Bonding of the adhesive system is improved by mechanical anchoring in the cut cells.
The structural foam can be processed with room temperature curing systems (cold curing). Common polyester, vinyl ester, and epoxy resins can be processed by hand lay-up or with vacuum support. Prior to bonding, the surface should be dedusted with oil-free compressed air.
For warm curing, ROHACELL® can be easily processed in autoclaves, RTM or similar production processes.
Quality, approvals and safety
We have an integrated management system in place to meet global customer requirements and ensure that the highest quality standards are maintained. Our system is EN 9100:2018/ AS9100:2016, and ISO 9001:2015-certified and is regularly optimized.
For the aerospace industry, quality management is complex and thus requires an industry-specific system. This is why, for the first time in March 2007, we had our entire system—from development and production, all the way to configuration management and quality assurance—appraised and certified according to the aerospace standards, EN 9100:2018, AS 9100:2016, and JISQ 9100: 2016. Several customers have tested this quality system over the years and are highly satisfied with it.
The most important platform for companies in the aerospace industry is the OASIS (Online Aerospace Supplier Information System) database, in which Evonik has been listed since March 2007.
The company is also an authorized supplier to many well-known customers in the aerospace industry. The first ROHACELL® specification for aerospace application was drafted right after we started production in 1972. Today, some 200 customer specifications ensure an individually adapted property profile, and not just for aerospace applications. In close collaboration with ROHACELL® customers, we offer all the resources and information you need, including access to various test equipment and other services.
To the best of our present knowledge, ROHACELL® has no adverse effects on man, animals, plants, or microorganisms at ambient conditions.
Closed-cell ROHACELL® foam is
water–insoluble
largely physiologically inert
not absorbed through the skin, respiratory tract, or gastrointestinal tract due to its high molecular weight
No systemic toxicity is expected from single or even multiple exposure.
As in the case of other inert dusts, exposure to ROHACELL® dusts could possibly result in mechanical irritation in the upper respiratory passages and the mucous membranes of the eye. Product dust can remove natural moisture from the skin, and the resulting drying of the skin could cause irritation in some cases. Sensitization is not expected.
No dangerous byproducts are formed if ROHACELL® is correctly processed.
Processing ROHACELL® with heating wire may generate gases harmful to health. If, against our recommendation, ROHACELL® is processed in this way, care must be taken to safeguard employees from exposure, for example, by a suitable ventilation system.
ROHACELL® foam is non-hazardous, not governed by any particular safety regulations, and non-water-polluting. It can be disposed of in accordance with local ordinances.
ROHACELL® cannot be materially recycled. If possible, incinerate in a common combustion plant instead of landfilling as a disposal method.