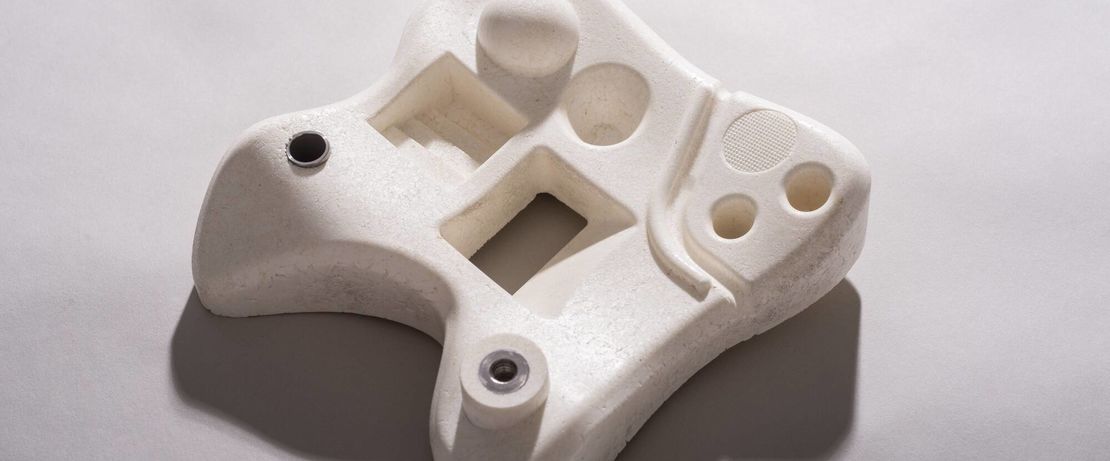 FOAM CORES FOR LARGE PRODUCTION VOLUMES AND COMPLEX GEOMETRY
ROHACELL® Triple F
With ROHACELL® Triple F, part geometries that are complex and challenging to produce can now be foamed "in-situ" - directly inside a mold. Even geometries previously impossible to create with NC machining. 
Similar to other ROHACELL® grades, Triple F is compatible with common resins and thermoplastic materials. Inserts can be placed directly inside the mold during the foaming process. This results in an interlocking connection between the foam core and the inserts, thereby eliminating added production steps for drilling and bonding.
 ROHACELL® Triple F is suitable for large production volumes of 1000+ complex 3D-foam core parts per year.
Temperature resistance of up to 130 °C (266 °F) and pressure resistance of up to 3.5 MPa (508 psi) is achievable, depending upon density. Additionally, ROHACELL® Triple F is also suitable for most curing conditions used in the aerospace industry which require high compressive creep resistance at curing temperatures up to 180 °C (356 °F) and pressures up to 0.7 MPa (100 psi). ROHACELL® Triple F is an ideal foam core for fast and efficient curing processes, not only for RTM or wet pressing, but also for high pressure RTM processes like compression-RTM.
With over 50 years of experience in foam technology and production, Evonik focuses on its core competence as a foam materials provider, supplying net-shape ROHACELL® Triple F parts to industry Tier 1s and OEMs. We highly recommend working with approved industry part manufacturers to determine the exact requirements for your specific sandwich-design composite parts, including fiber volume content, void content, fiber undulation, inspection methods and quality systems.
The 100%-usable shaped cores reduce waste and cycle times, as well as rework time since it is an out-of-tool part with a high quality surface. The innovative Triple F foaming process eliminates multiple manufacturing steps including sanding, potting, release agent removal, and use of an evacuation system due to the outgassing or residual reactions that occur when manipulating polyurethane foams.